Zimra Integrity Management updates
A total of 176 ZIMRA employees have been suspended/dismissed since 2016.
| | |
| --- | --- |
| Year | Suspended/Dismissed |
| 2019 | 34 |
| 2018 | 55 |
| 2017 | 35 |
| 2016 | 52 |
| Total | 176 |
Officers affected by Customs Clearance Certificates project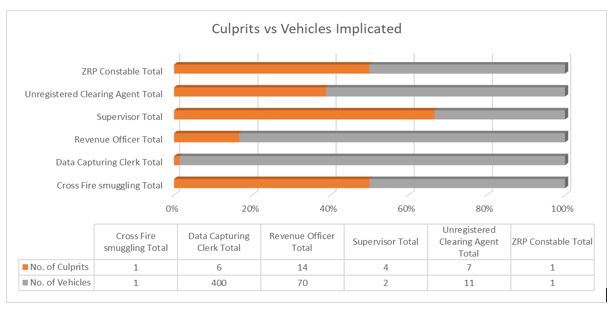 Data capturing clerks have the highest impact on vehicles that are imported into the country without payment of duty. They are now a corruption hot spot.
485 vehicles were identified as having been fraudulently registered. 433 of these were finally published in the print media calling for owners to report to ZIMRA for verification of the clearance details. A total of 52 vehicles out of the 485 had data capturing errors that were verified and found to have been correctly cleared. One hundred and eight (108) vehicles have been seized to date.
There is huge impact on revenue collection. It is estimated that ZWL 70 000 000 will be recovered directly from this project.
The project is expected to improve compliance which will be a major factor in the long term.
Impounded cars
https://www.thezimbabwemail.com/car-renew/zacc-zimra-impound-over-100-vehicles/
20 ZIMRA officers were arrested and are appearing before the courts
Hot News
https://iharare.com/ginimbi-ordered-to-pay-58k-more-for-new-bently-continental-gt/
Zimra official denied bail:
A 29-YEAR-OLD Zimbabwe Revenue Authority (Zimra) official accused of defrauding his employer of US$433 000 and $1,5 million while stationed at Plumtree Border Post was yesterday denied bail by a Bulawayo magistrate on the grounds that he was a flight risk.
https://www.zimbabwesituation.com/news/zimra-official-denied-bail/
Crime Reporter
POLICE have launched a manhunt for a Zimbabwe Revenue Authority (Zimra) officer Sekelwe Maphosa who is part of a gang that defrauded the authority of millions of dollars in a fraudulent vehicle clearance scandal at Plumtree Border Post.
Two Zimra officers, Teeklar Ndlovu (55) and Norest Ushe (29), have since been arrested for fraudulently clearing 50 vehicles without charging import duty. Maphosa is still at large and the police are now looking for her.
https://www.herald.co.zw/zimra-officer-on-the-run/
https://nehandaradio.com/2019/12/15/zimra-official-who-was-on-the-run-over-usd400k-f
Zimra Clerk Charged With 183 Counts of Fraud
A ZIMRA data capture clerk, Herry Phiri has resigned after he was charged with 183 counts of fraud. He allegedly forged customs clearance certificates to evade duty. Phiri appeared before Beitbridge Resident Magistrate, Langton Mukwengi and was granted $5 000 bail and ordered to report three times per week at Beitbridge Police. He was remanded to a later day for continuation of trial.
https://www.zimeye.net/2019/12/05/zimra-clerk-charged-with-183-counts-of-fraud/
Monthly Corruption Trend
Updates inserted by:
Tapiwa Manyika (CPO, DDO)
Chief Loss Control Manager