A total of 200 ZIMRA employees have been suspended/dismissed since 2016.
| | |
| --- | --- |
| Year | Suspended/Dismissed |
| 2020 | 24 |
| 2019 | 34 |
| 2018 | 55 |
| 2017 | 35 |
| 2016 | 52 |
| Total | 200 |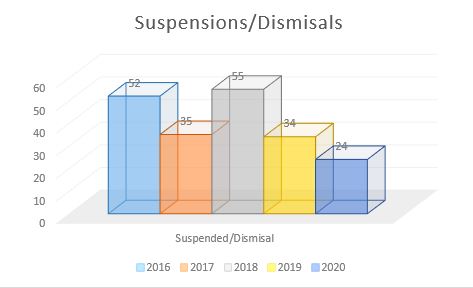 Officers affected by Customs Clearance Certificates project
Data capturing clerks have the highest impact on vehicles that are imported into the country without payment of duty. They are now a corruption hot spot.
https://www.thezimbabwemail.com/car-renew/zacc-zimra-impound-over-100-vehicles/
Fuel smuggling storm: Ajara Trucking busted by ZIMRA
https://zimmorningpost.com/fuel-smuggling-storm-ajara-trucking-busted-by-zimra/
Hot News
Zimra Busts Massive Fuel Smuggling Syndicate
https://allafrica.com/stories/202107280661.html#:~:text=Zimbabwe%3A%20Zimra%20Busts%20Massive%20Fuel%20Smuggling%20Syndicate
Zimra explains tricks used by fuel smuggling syndicates
https://www.zbcnews.co.zw/zimra-explains-tricks-used-by-fuel-smuggling-syndicates/#:~:text=Zimra%20explains%20tricks%20used%20by%20fuel%20smuggling%20syndicates
Four ZIMRA workers siphoned $50 million ZWL in a VAT scam
https://www.techzim.co.zw/2021/05/four-zimra-workers-siphoned-50-million-zwl-in-a-vat-scam/
Zimra launches witch-hunt
https://bulawayo24.com/index-id-news-sc-local-byo-205056.html
https://www.herald.co.zw/zimra-official-in-court/
Zimra official under fire over unexplained wealth which includes cars and immovable property
https://www.herald.co.zw/zimra-official-under-fire-over-unexplained-wealth-which-includes-cars-and-immovable-property/
Three (3) Zimra officials in court for 'smuggling' fuel
https://www.chronicle.co.zw/3-zimra-officials-in-court-for-smuggling-fuel/
Zimbabwe's corruption trend from 2012 to 2020 is shown in the table below.
The graph above shows that Zimbabwe has been slowly improving in the scare since 2012 where it started at 20 and is currently at 24.
ZIMRA Monthly Corruption Trend 2019 - 2021
Smuggling has slightly increased in the current year 2021 compared to the same period since 2019. The cumulative smuggling trend shown in figure 14 below shows an upward trajectory.
Fraud Cases
The recent unearthing of massive fraud in the tax refunds section has resulted in a spike in fraud cases, compared to the same period in previous years. An over 400% increase from the same period in 2019. The Beit bridge operation by security agents including Zimra has resulted in an increase in the cases under investigation.
Q1 2021 ZIMRA Distribution of Corruption Performance Index
The radar indicates a graphical snapshot of the distribution of performance index per Performance Indicator
The quadrants have an interval of 0.2 starting from 0 and ending at 1 performance index.
The closer the rated index is to zero the greater the achievement is in fighting corruption.
Figure 1: Corruption Performance Index Radar
PI- Performance Indicator
ZIMRA has put in place systems and structures to reduce corruption to zero. The overall Corruption Index from the Q1 2021 assessment exercise was 0.17. The result means that corruption level in the Authority is at 0.17 (17%). This shows that the Authority exerted a 0.83 (83%) effort in the fight against corruption.
Updates inserted by:
Selleck Mapfeka
Loss Control Manager